Written by The Suit Works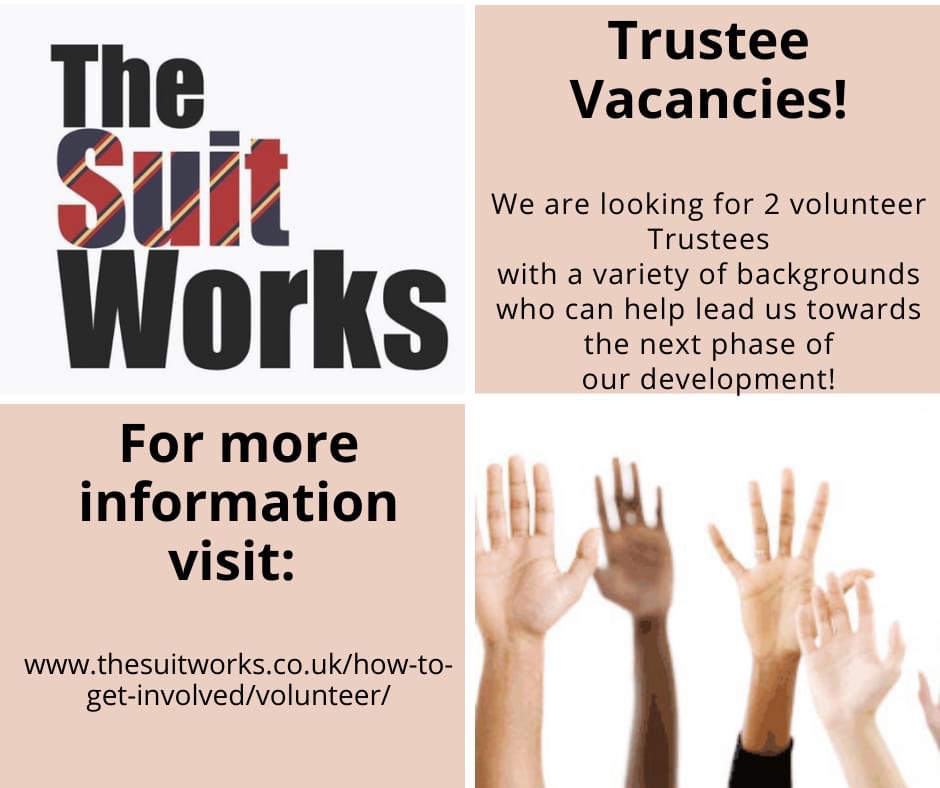 The Suit Works is a small but growing organisation and we are now looking for Trustees with a variety of backgrounds who can help lead us towards the next phase of our development. Our Board of Trustees are responsible for the overall governance of the organisation and for supporting the team at The Suit Works to implement their business plan.
There are exciting developments ahead for The Suit Works and we would like to welcome individuals from a wide variety of backgrounds who have an interest and/or knowledge around removing barriers to employment as well as contributing to a sustainable future for all.
We require two trustees with a background in any of the following:
Fundraising
Finance
Retail
Sustainability
Community Engagement
Business or Commercial knowledge
Board Secretary Experience
If you don't fall into any of the above categories but feel you will make a perfect Trustee at The Suit Works, please still get in touch. We hate to pigeon hole and we know South Yorkshire has lots of amazing people willing to work alongside charities like ourselves.
Previous board experience is not essential
All we ask is that you have the relevant knowledge and skills to contribute to The Suit Works growth and are able to commit to 4 board meetings a year.
We're looking to diversify our board in terms of race, age, gender, disability, class, and lived experience. We warmly welcome applications from people from less-represented groups.
Interested? If you would like an informal chat about a trustee role or you would like a recruitment pack, please contact us on info@thesuitworks.co.uk or 0114 2012531.
Meet our current Board of Trustees
The closing date for applications is Tuesday 9th March 5pm.