In 2043, Sheffield will be 150 years old – how will you shape your city's future? 
Sheffield150 convenes a diverse group of leaders, aged 18-25, from across Sheffield to address the question: "What will the legacy of our generation be?" Because after all, you are the generation who will shape the city when it reaches 150.
Sheffield150 is a part of Legacy; a global campaign by Common Purpose, which invests in young people across the world so they can become a connected generation of leaders with a clear vision for what their legacy will be. Click here to see other legacy programmes around the world.
If you want to;
Connect with other amazing young leaders across Sheffield to make a difference in your city
Access senior leaders in Sheffield to have your say on some of the city's challenges that matter the most to you
Gain skills that will increase your employability and add to your resume
If so, and you're 18-25 from the Sheffield area, apply for this free online programme here!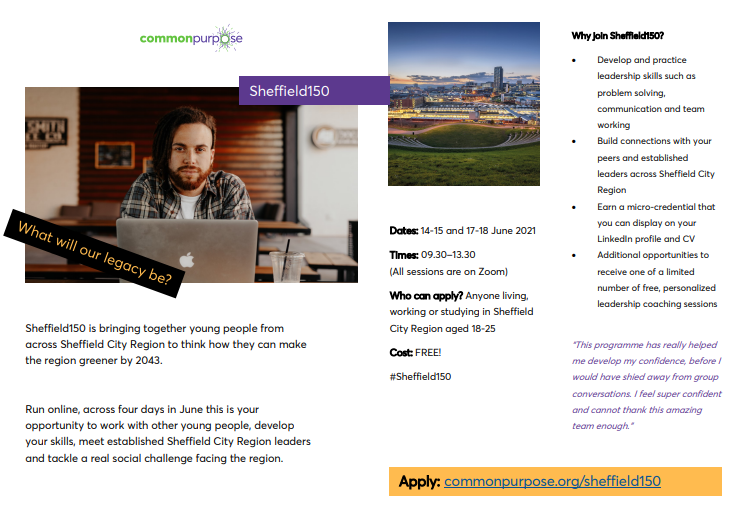 Why take part?
Sheffield150 is your opportunity to come together as a generation and think through what your generation's legacy will be. As part of a highly diverse group of peers, you will tackle real social challenges facing Sheffield and develop Cultural Intelligence in the process – the ability to cross divides and thrive in multiple cultures.
What is the application process?
The application process for Sheffield150 involves answering one question which reflects your passion for leadership and your city. This question can be answered by whichever means feels most comfortable to you, be it written, video submission, a piece of artwork, song or photograph – however you best feel you can express your desire to take responsibility for the legacy of Sheffield.
What happens on Sheffield150?
You'll join a group of 100 people in Sheffield to tackle a pressing challenge your city faces: This year's challenge is: How do we work together to create a fair, inclusive and healthy Sheffield?
You'll come together online to investigate issues, collaborate, hold difficult conversations and work up ideas. You'll test, refine and present your ideas to leaders in Sheffield.
Sheffield150 is intergenerational, giving you the opportunity to work with around 30 established leaders from across the city, who act as group advisors, speakers and immersion hosts. The established leaders benefit from seeing the world through your eyes – the next generation.