Reposted from the Department for Work & Pensions
Universal Credit makes it easier to take up job opportunities, so you can say yes when you're offered a new role.
Top up your wages
Universal Credit is different to the old system because you could continue to get Universal Credit even when you start work. Your total income from earnings and Universal Credit combined will always be more than you would have received from Universal Credit alone.
Your Universal Credit payment will be reduced by 63p for every £1 you earn. In other words, you will receive an additional 37p from Universal Credit for every £1 you earn through work, up to a limit that depends on your circumstances.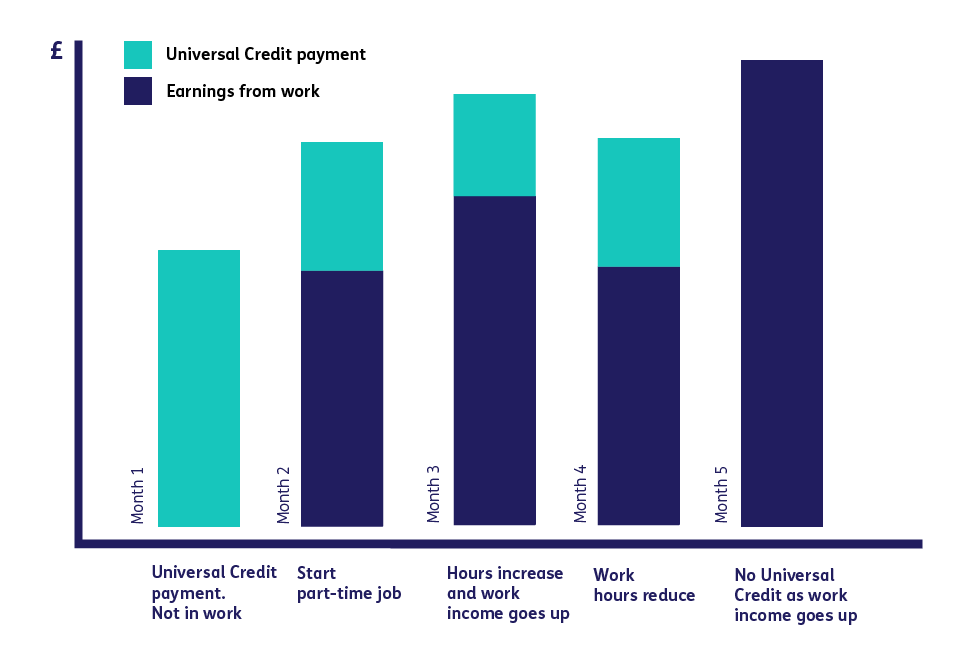 And if you're responsible for children, and/or have been assessed as having limited capability for work, you can earn a certain amount before your Universal Credit payments are affected.
All this means you can take any job, including part-time work, even if it's just a few hours a week. You can also take work with variable hours, knowing that your Universal Credit payments will increase again if your earnings are lower than usual.
Universal Credit helps make sure any job will be worth your while, and it could be an important stepping stone to more hours or another role.
Find out more about Universal Credit and work.
Flexible support when you're working
Take temporary work
With Universal Credit you can take short-term jobs without having to worry about what it will mean for your benefits.
Even if your earnings mean you aren't getting any Universal Credit payments, if your job ends within 6 months it's quick and easy to restart your Universal Credit claim. You'll have the same payment date as you did before, so there's a lot less hassle when moving in and out of temporary work.
This means you can sign up for agency or temp work, which could open the door to more permanent opportunities.
Help with childcare costs
If you're working, Universal Credit could pay towards your childcare costs.
As long as you use a registered childcare provider, you can get back up to 85% of your paid out childcare costs. You can even get this help for a month before you start work and for a month after it ends, so a short gap between jobs won't mean you need to stop your childcare.
And that allows you to be much more flexible in the jobs and the hours you apply for.
Read more about Universal Credit and childcare.
Self-employment
It might be that your best option is running a business of your own, and Universal Credit could support you financially so you can concentrate on making it a success.
If you're self-employed and make a new Universal Credit claim, or if you start your own business whilst on Universal Credit, you could get extra support. This could mean you have up to 12 months in which you can focus on your business without having to look for other work.
Find out more about Universal Credit and self-employment and discover how a New Enterprise Allowance could help your new business get started.