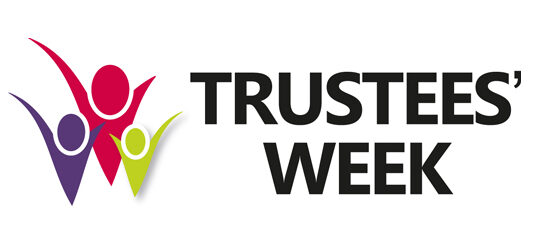 Now in its 11th year, Trustees' Week is a celebration of the great work you do. It is the time of year when we come together to mark the achievements of the UK's one million trustees. This is an opportunity to use the wide range of guidance, resources and online training to develop your skills, make new connections with other trustees and share your achievements more widely.
Our purpose:
to celebrate the time, commitment, skills and experience you bring to charities
offer you an online, 'one-stop shop' where you can find training, and a host of essential guidance and other resources
There are loads of opportunities to get involved.
There are over 60 FREE or low-cost events including webinars, discussion panels and celebrations – book now!
Add the logos below to promote what you are doing.
Promote Trustees' Week using the digital backdrop in your online meetings – use the support information on how to change your background for a Teams meeting.
Add the digital background to your online meetings.
Use this email footer and add it to your email signature – use the support information on how to create and add a signature to messages and how to create an email signature from a template.
Add the email footer to your email signature.
If possible please add the hyperlink www.trusteesweek.org to make it easy to visit the website.
Share with local people what your charity does. Invite them in. Tell them what you do. Get them involved too.
Be proactive, younger people have talent, energy and a fresh perspective to offer. Ask local colleges, universities and young people's groups for the chance to talk to them about the trustee role.
Get together with another charity to run a joint event.
Follow us @Trusteesweek on Twitter. Use #TrusteesWeek to follow everything that's happening.
Monday 1 November – #TagATrustee
As well as showcasing the great work you do, Trustees' Week is a brilliant opportunity for potential, new and aspiring trustees to see what it's all about. So, let's kick off the week by inviting them to join us and get involved! If you know someone who would make a great trustee, tag them using #TagATrustee and encourage your followers to do the same. Share the trustee quiz to help them identify the skills they could bring to a charity.
Tuesday 2 November – Trustees stories
Visit the homepage trusteesweek.org to hear from different trustees about their experiences. Got a story to share? Join the conversation on Twitter using #TrusteesWeek.
Friday 5 November – #ThankATrustee
It's only right to end the week by all showing our massive appreciation for the great work trustees do. Know a trustee who has gone above and beyond? Someone whose contributions have made a real difference to the people and causes their charity supports? Let them know it's not gone unnoticed! Give them a mention on Twitter, using #ThankATrustee and encourage your followers to do the same.