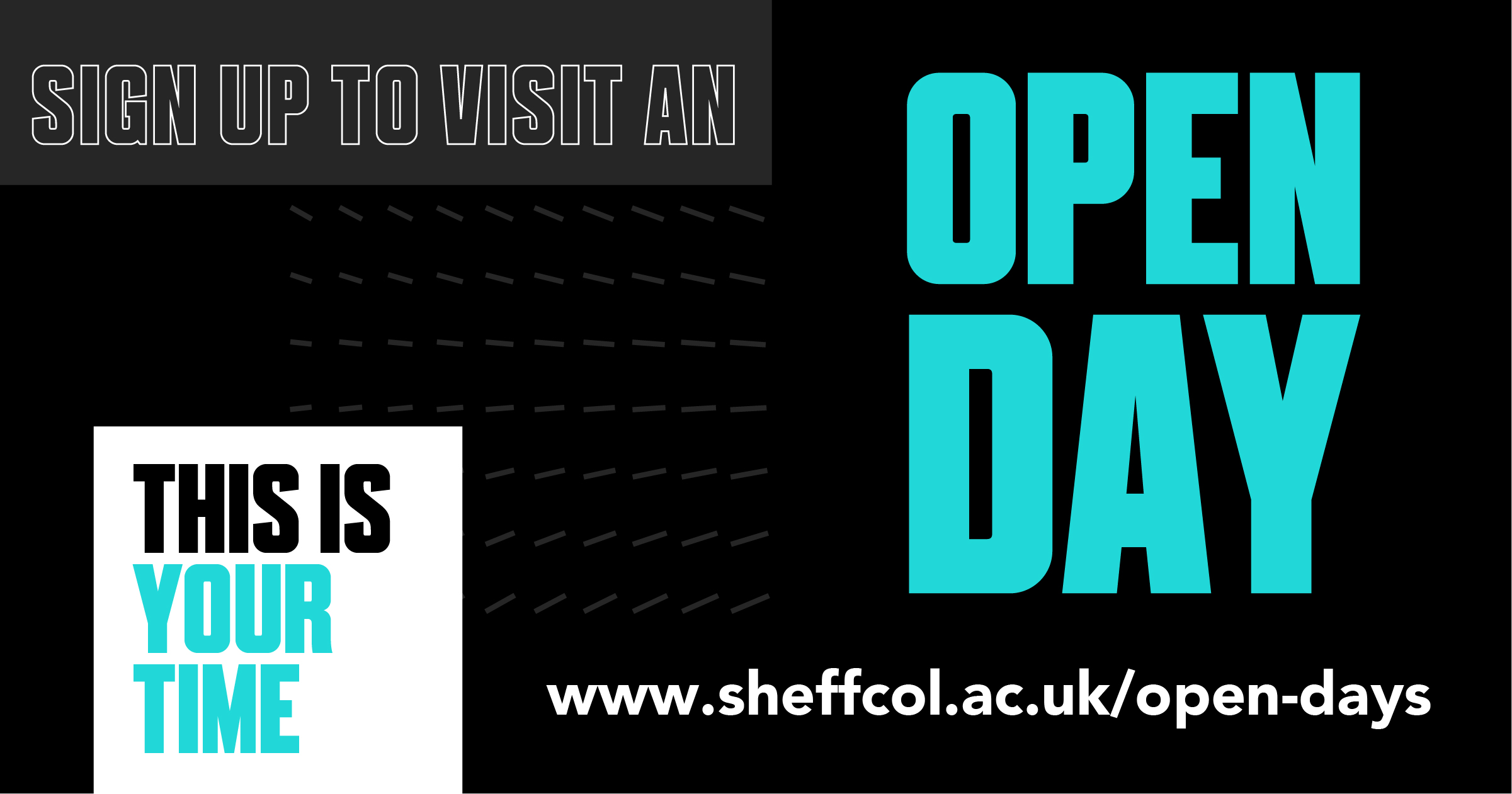 See below for a list of open days scheduled to take place at The Sheffield College in Spring 2022:
Tuesday 1 February 2022 
Science, Technology, Engineering and Manufacturing
(including Science and Dental, Construction and Building Trades, Engineering, IT and Computing, Automotive, Civil Engineering)
Thursday 24 February 2022 
Hospitality, Travel, Health, Education and Care
(including Catering, Aviation, Travel and Events, Bakery and Hospitality, Health and Social Care, Hair and Beauty, Childcare, Education)
Monday 14 March 2022
Academic studies and Professional industries, and Inclusion
(including The Sheffield College Sixth Form, Inclusion, Business and related industries)
Wednesday 20 April 2022
Animal Care, Land-based, Sport and Protective Services
(including Animal Care, Land-based Studies, Sport and Public Services)
Wednesday 27 April 2022
(including Design and Visual Arts, Media, Journalism and Photography, Music and Performing Arts and Games Design)
Guidance of choosing the right course
Written by The Sheffield College
Choosing a career path is something that everyone does at least once in their professional life. There's no set route from A to B, and that's why it's so important to consider your own career path and where you want yours to take you.
Your career path can be chosen and changed at any point in your life, so whether you're leaving school, currently studying, recently graduated or even contemplating a career change, read this article to help you decide which career path is right for you.
Identify Your Interests
First thing's first, your career absolutely has to interest and excite you. We spend a lot of our lives working, so make sure your career path is one that'll motivate, inspire and challenge you. Have a think about some of the subjects and activities you enjoy the most. Follow that up with why you think you're drawn to those interests and you're on your way to pinpointing specific qualities that will be transferable to your career path.
Don't worry if you're struggling to determine your interests. Simply start off by considering whether you're more enthusiastic about words, numbers, visuals, or physical activities, and that should help you to narrow things down.
It's also useful to consider your core values; what's important to you, what sort of environment could you thrive in, which sector most appeals to you (public, private, not-for-profit), what sort of lifestyle do you want? Getting an idea of the answers to some of these questions will help you to discover what you want most from your career.
Consider Your Skills
When you're deciding on your career path, it's important to understand the unique set of skills you possess, so that you can determine how they can fit with the career you'd like to pursue. Here's where it could be useful to research which skills are the most important for some of the industries and sectors you've already selected for your career path. Comparing these desired skills with the ones you already possess will give you the confidence to pursue your goals, whilst clearly highlighting any gaps that will need filling in order for you to achieve your career ambitions.
Contemplate Career Choices
Once you've compiled your unique list of interests and skills, it's time to consider which industry or sector is the right one for you. It's totally fine to have a few completely different ideas at this point. Put together a shortlist of however many jobs you'd like to consider, and then delve into the advantages and disadvantages of each. Some of the main things to think about include your career development opportunities, the job market and chances of you being able to find a job in that field, the entry requirements and whether you have or can gain the skills needed, the job descriptions and how much these appeal to you, any other related jobs it might be possible to move into with some more experience, the salary and working conditions and how these fit with your preferred lifestyle, and of course, any training necessary to get your foot in the door.
You can then finetune your list of careers that you're interested in learning more about. Here's the perfect time to attend an open day at The Sheffield College.
Attend An Open Day
Once you've got your list of a few potential career paths and job ideas, as well as the qualifications and education you'll need to make a start in those fields, now's the best time to attend an Open Day at The Sheffield College.
This year, we're doing things a little differently, and we've got five sector-specific open days coming up over the next few months. This not only means that you'll get a tailored experience of the college in terms of your own particular interests and ambitions, but you'll also get to witness live lessons, demonstrations and workshops in the areas you're most passionate about. You'll get the opportunity to speak to current students as well as our careers team, so that you can discuss what it's really like to work in your favourite fields and where your career path could take you.
After the Open Day, you'll have a really clear idea of which careers and roles you'd like to pursue on your career path, as well as what you need to do to get there. You'll also be able to apply for any courses you'd like to undertake on the night, so you can start stepping onto your career path right away.
Take a look at our upcoming Open Days and book your place to set off on your career path with all the tools you need to succeed!