Element Society is looking for young people (16-24) who want to help Sheffield recover from Covid-19! The youth charity is offering free workshops, training, and support that will help you help out your local community.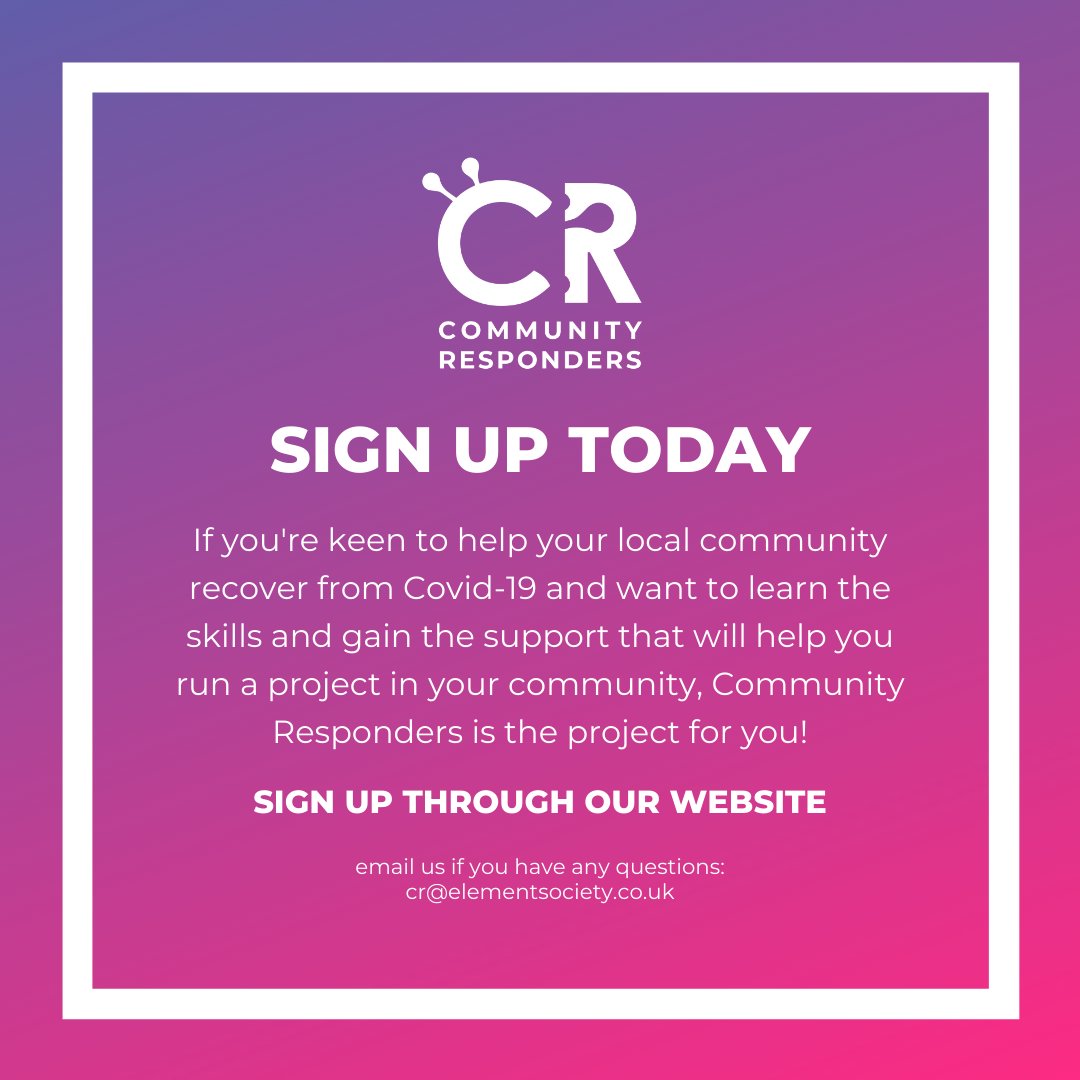 Community Responders

Recruiting and training 50 Community Responders based across the city who will lead their own community projects to help their local community recover from the pandemic's effects.
Community Responders is a project designed to put young people at the heart of community action. The project is designed to give autonomy to young people in recording and presenting their voices, the challenges in their daily lives, and issues facing their local communities and extended families, and their thoughts on what could be done to improve things and provide a legacy of change and improvement which can be extended further. Guided by Element's expertise, young people will be encouraged to devise social action projects that they feel are important to them and their communities. Within the broad values and mission of Element Society, there is every intention to ensure that the project is young person led, delivered and evaluated.
The intention is to generate presentation materials and techniques for different audiences, including local leaders and politicians, which will put young people's voices more firmly on the map and help to point a way forward as the pandemic recedes and the divisions and difficulties exposed by the pandemic come to the fore.
How can I get involved?
Be a Community Responder
To be a Community Responder you must be aged 16 – 24 

You can download the application form: 
For Microsoft Word or As a PDF
Please Email your application forms to cr@elementsociety.co.uk
If you are struggling with these formats let us know and we can send you a different online format
Other ways to get involved
You can get involved by promoting us, offering your support in training resources for our Community Responders, or supporting our Community Responders within the community and their projects.
To get involved, email the CR team at cr@elementsociety.co.uk
Dates for your diary!
Week Commencing: 22nd Feb – WE ARE ACCEPTING APPLICATIONS
Week Commencing: 29th March – Welcome Session and Training Packs will be sent out to successful applicants.
Week Commencing: 5th April – Flexible training will commence.
Week Commencing: 12th April – You will be planning your projects ready for a project pitch. Drop-In sessions for support will be available each day.
Week Commencing: 19th April – You will deliver your project pitch at the beginning of the week. The rest of the week will be spent getting your project off the ground.
We are committed to providing continued support and extra training on request once your projects have started.
Successes so far
The project has now completed its planning and preparation stage. The team are currently working with a steering group that will direct the next stage of the project. We have had a packed programme of training workshops over the February half term and will be recruiting more community responders in the coming weeks. Training is set to commence in the Easter Holidays.
Tashinga, our project assistant, has been interviewed on local radio, and other organisations and local leaders have started to get on board with their support. Catch Tashinga's interviews at 1:20 here and 1:38 here.
Watch this space! The team are really excited about this, as Tashinga tells us:
This project is all about youth empowerment, young people inspiring other young people and young people being equipped with the knowledge and resources to be able to make a positive impact on their communities. We see a definite need for this project especially during these tough times we are all facing and we are so excited to see the results in a few months.
You can find the training resources here.
This project wouldn't have been possible without the support of The National Lottery. Find out more about how they support us.